Woman fakes her pregnancy to get this but got arrested instate and this was found out
There was a woman who claimed to be the kidnapped pregnant Takoradi 'superstar' Josephine Panyin Mensah but she takes it. And in her faking the pregnancy, people opened their eyes especially the Ghanaians that not every woman who has a big belly looking as if they are pregnant means that they really are pregnant. Some women fake their pregnancy for various reasons.
Another woman has been 'arrested' in Nigeria for a fake pregnancy. About four ladies including one Police Officer has took a video of a 25-year old woman who was faking her pregnancy
The fake pregnant woman started to be very afraid after she realized that there was one policewoman among the police officers.
The Police woman among the them wanted to get her arrested but there were other ladies present there who are said to be Christians and they pleaded with the Police Officer that this woman needs help.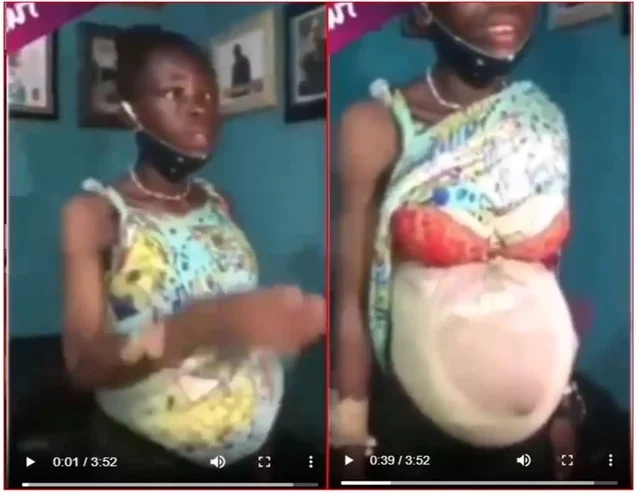 Looking at the picture above, if someone tells you that she is expecting a baby, you might believe it because she really did what decieves the eyes of men. But the ladies were able to identify that it is a fake pregnancy.
The woman used some clothes to design her 'pregnancy' making it look real enough to many. According to the people who arrested her, she uses this fake pregnancy to extort money from people.
Examining her facial expression very well, she does not look like a 25-year-old lady. Poverty and hunger have really deformed her looks.
She looks pale and if you don't take care you might say that she is above 30 years.
The Christian ladies promised the woman that they will help her so they assisted her to get rid of the fake pregnancy.
So it was actually out of poverty that this woman fake her pregnancy in other to get money from naive people she come across.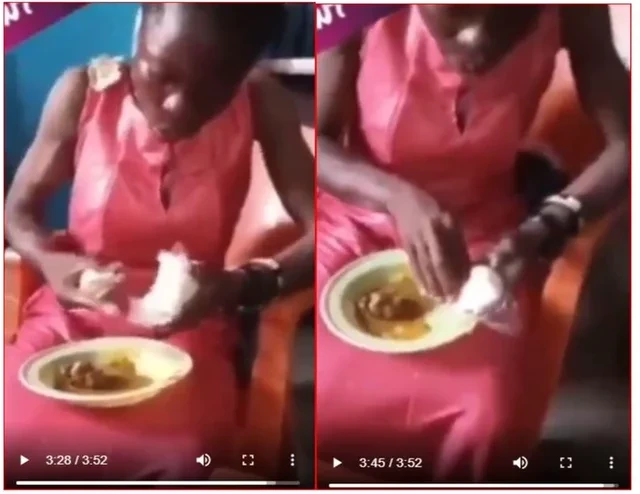 The picture above shows moment she was fed and set free by the ladies.
My mind price:
I believe that everything done in this world is done because there is a reason behind it. There is nothing that happens without a reason. Everything has got its own roots where it comes from. But we cannot judge by the situations that people go through, because there are some situations that some are in and yet us cannot even bare being in their shoes.
The poor woman was facing the difficulties oher life at this stage, thinking that COVID is still present and also that many are no longer working. This also has put a strain on the families and people to embark in actions to find something to feed themselves and their children so that they could not starve. I do not blame the woman for doing this, actually I say that this is a sign for the Ghanaians that they have to move and fight for those in need.
I also say that such actions are a product of a strain that COVID and the government put on the shoulders of people. Like in South Africa, the government introduced the R350 SRD grants but not everyone got their money loaded in. And this caused twitter to be on fire. Because people want answers but there are some questions we know that they will never be answered no matter how many times it is asked.
What do you think as a reader? What is your take in this as a reader? Would you say that the woman was in the wrong to do this?
Do not forget to follow me for more stories and visit my page to read also on the ones that you might have missed already.
Do not forget to like, comment, and share this article with others out there.
SORRY GUYS, DUE TO THE CONTENT IN THE VIDEO, WE CAN'T POST THE VIDEO HERE, SO KINDLY CLICK HERE TO WATCH IT NOW