Today's Headlines: Another Protest Begins In Bayelsa; Resident Burnt Alive As Bandits Strike Again
Another Protests Begins In Bayelsa
Hundreds of protesters besieged and shut down activities at the Nigerian Content Development and Monitoring Board (NCDMB) headquarters building in Yenagoa, the Bayelsa State capital, on Wednesday.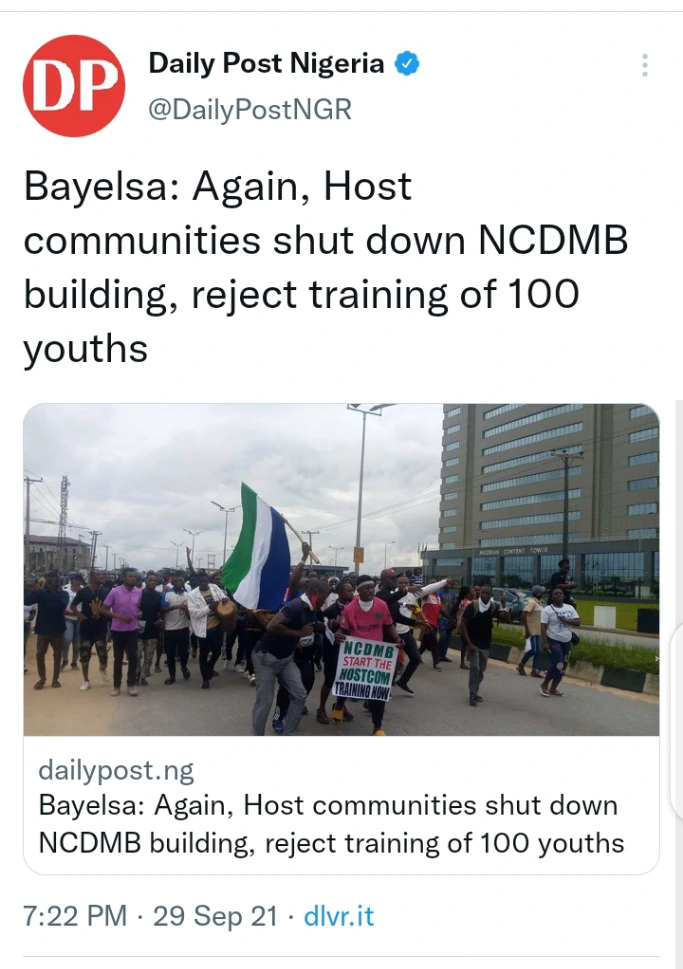 The aggrieved youths said they rejected the offer of training just one hundred youths from the earlier agreed and approved 1000 youths from over 850 communities in the eight local government areas of the state.
The angry protesters at the early hours of Wednesday stormed and barricaded the main entrance to the content tower, preventing visitors and workers from gaining entrance into the building.
Resident Burnt Alive, Policemen Missing As Bandits Strike Again In Sokoto
Bandits have launched a new attack in Sokoto, two days after killing security operatives at a military formation.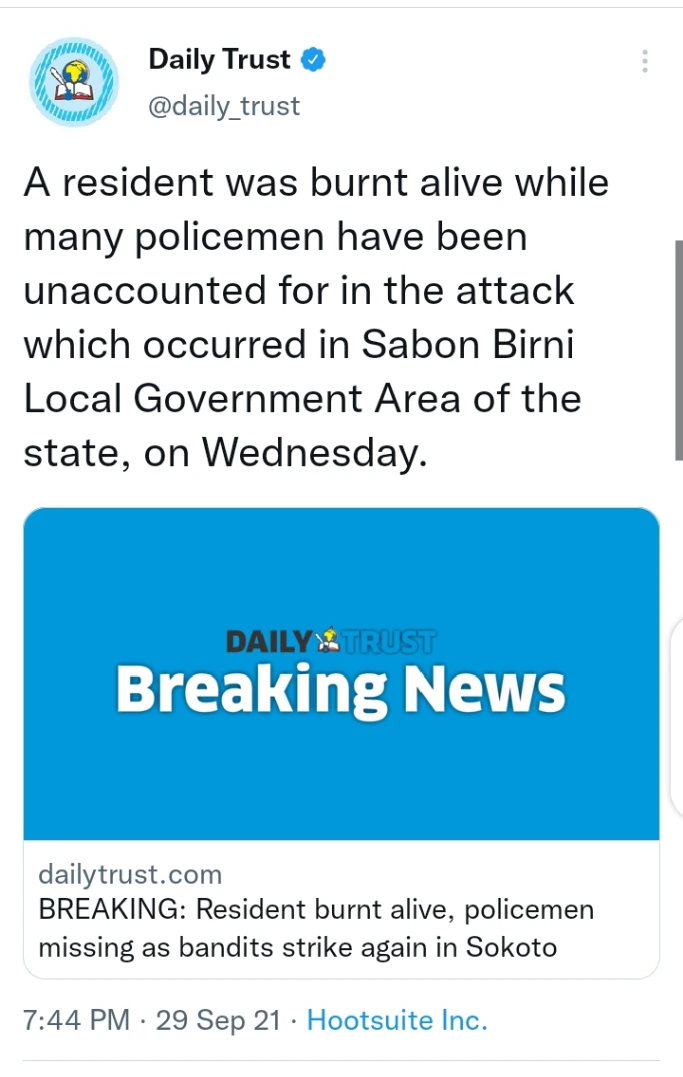 In the attack, which took place on Wednesday in the Sabon Birni Local Government Area of the state, a resident was burned alive, and many policemen are still missing.
Earlier this week, bandits gunned down at least 17 security personnel in Sabon Birnin.
According to Daily Trust, 27 people, including women and children, were kidnapped from Gatawa, a community in Sabo Birni.
Confirming the incident, Sa'idu Ibrahim, the state House of Assembly member representing Sabon Birni East constituency, said the bandits were now targeting security formations in the area.
IGP assures maximum security
The Inspector-General of Police (IGP), Usman Alkali Baba on Wednesday assured the nation of maximum security as the nation marks the 61st Independence Anniversary on Friday.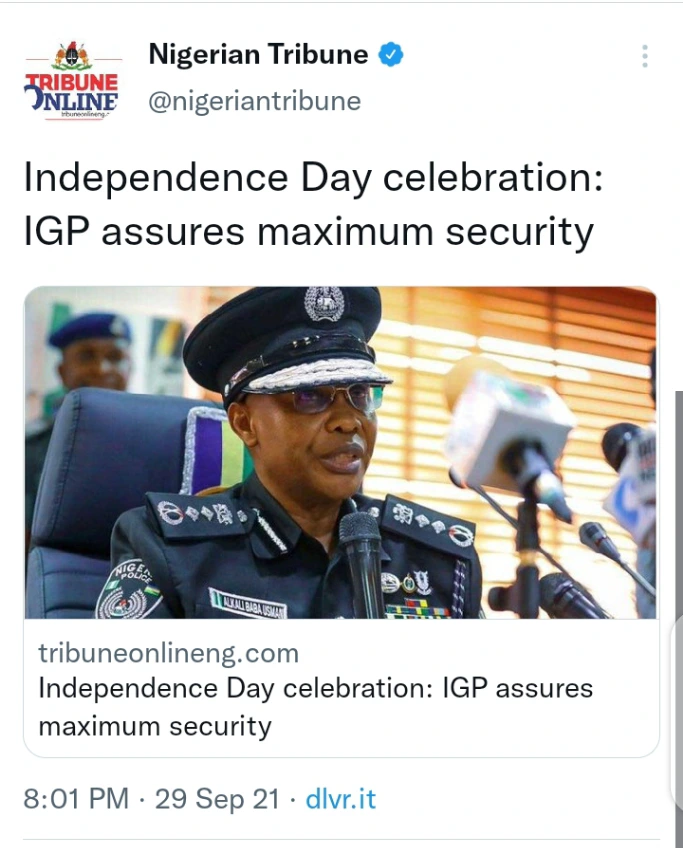 This was contained in a statement released to the media in Abuja by the Force Public Relations Officer FPRO Frank Mba, a Commissioner of Police (CP).
According to the statement, the Force had put in place adequate security measures to protect citizens, ensure the success of all the activities planned for the anniversary celebration, and prevent any untoward situation during the celebration and beyond.
NLC condemns wrangling over power shift amidst killings, poverty
The Nigeria Labour Congress has slammed the Southern and Northern governors for fighting over power shifts in the midst of the country's bloodshed and rising poverty.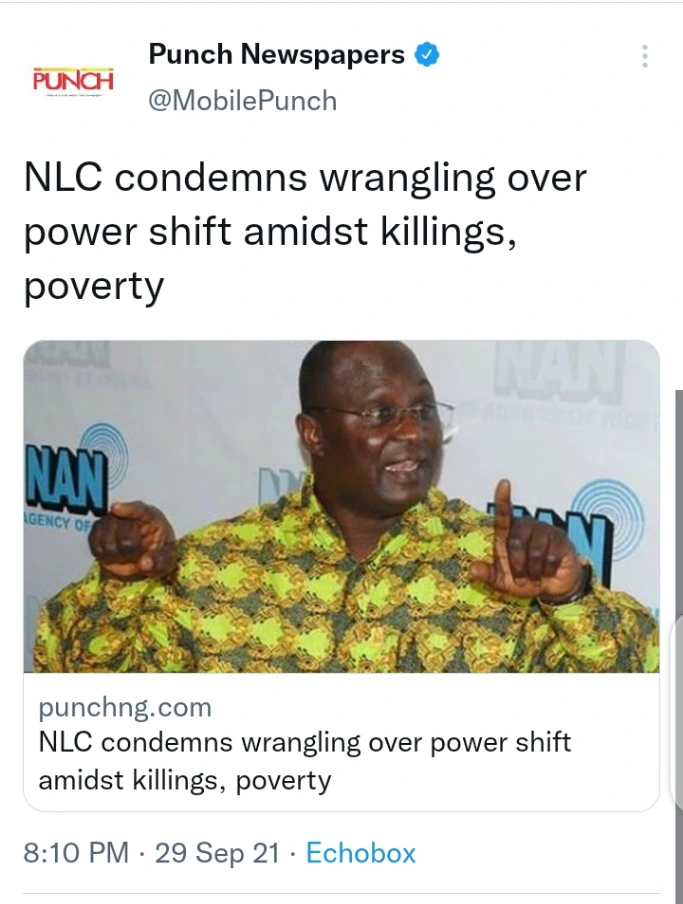 The NLC President, Ayuba Wabba, warned state executives not to overheat the polity while expressing shock at the governors' insults.
The NLC President, Ayuba Wabba, cautioned the state executives against overheating the polity while expressing shock over the brickbats by the governors.
The Southern Governors Forum had met in Lagos on July 5 and demanded that power must go to the South in 2023.
On September 27, the Northern Governors Forum met in Kaduna and insisted that power must remain in the North.
But commenting on the agitation at a roundtable on social protection cover with the theme 'Expanding Social Protection Cover and Ensuring Effective Implementation in Nigeria,' organised by the NLC in Abuja on Wednesday, Wabba submitted that the governors' statements showed utter disregard for the suffering of Nigerians.
SORRY GUYS, DUE TO THE CONTENT IN THE VIDEO, WE CAN'T POST THE VIDEO HERE, SO KINDLY CLICK HERE TO WATCH IT NOW