The Story Of Miracle Baby Born In Church Clutching Holy Quran In His Hand And The Unsolved Mystery
One thing we often hear from third-world countries is endless miracles. Very often, such a miracle that cannot be proven scientifically ends up making certain individuals stronger while leaving others who believe in them eternally subjective to those pushing the narrative.
Although the world we live in today presents to us many bizarre stories that often shock our imaginative minds, stories of miracle babies born with holy objects have continued to occur on rare occasions. Have you ever imagined that a Christian mother could give birth to a child clutching a Holy Quran in his hand before?.
The story of Mrs. Kikelomo Ilori is indeed an interesting one. At the time this happened, the young woman was not married to any man but she knew a man who eventually ended up impregnating her.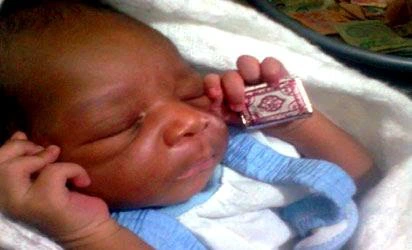 On 7 May 2012, Mrs. Ilori gave birth to a "Miracle Child" in a White Garment Church located in a busy area of Lagos (Mushin). The miracle baby who allegedly came to earth clutching a Holy Quran in his hand attracted many notable Islamic clerics who visited her Lagos home to see the wonder Allah brought upon humanity at the time.
If you recall, Mrs. Illori claimed that the father of the miracle baby abandoned her after she told him of her pregnancy and she decided to abort the child. Mrs. Ilori also disclosed several mysterious things that happened to her which forced her into keeping the pregnancy.
Many years after the birth of the Miracle Child, little things have been said about the progress of the child as he has remained out of public eyes.
The unsolved mystery.
The birth of a Miracle Baby brought about several arguments from the general public. While many believe that the story is true, a few others expressed that the claim can't be scientifically proven. As it seems, the mystery surrounding the miracle baby born in a church located in Lagos has remained a mystery in the eyes of many who believe in science.
What is your view on this Miracle Baby mystery?.
SORRY GUYS, DUE TO THE CONTENT IN THE VIDEO, WE CAN'T POST THE VIDEO HERE, SO KINDLY CLICK HERE TO WATCH IT NOW