He is the newest face in the Nigerian indigenous rap scene and appeals to a lot of Nigerians in the street – The Yoruba-born rapper, singer and songwriter, became popular after he collaborated with rapper Olamide and dancer Poco Lee on his hit song Zazuu Zeh.
Portable remains one of the fastest-growing Nigerian singers in the last five months.
But ever since the 27-year-old Sango Ota-based singer stumbled into fame no month has gone by without controversial singer, rapper and dancer, Habeeb Okikiola, aka Portable, being in the news for negative reasons.
We took out time to list the controversial events but here are the top two major events defining his fame.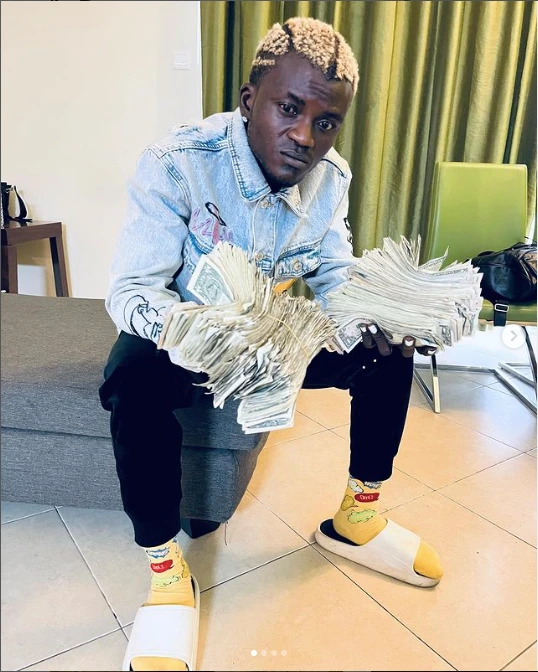 His outburst revealed that he was only given $600 of the money while Poco Lee made away with the remaining $2400.While Poco Lee is yet to react to the statement, the video has amassed different reactions from Nigerians online.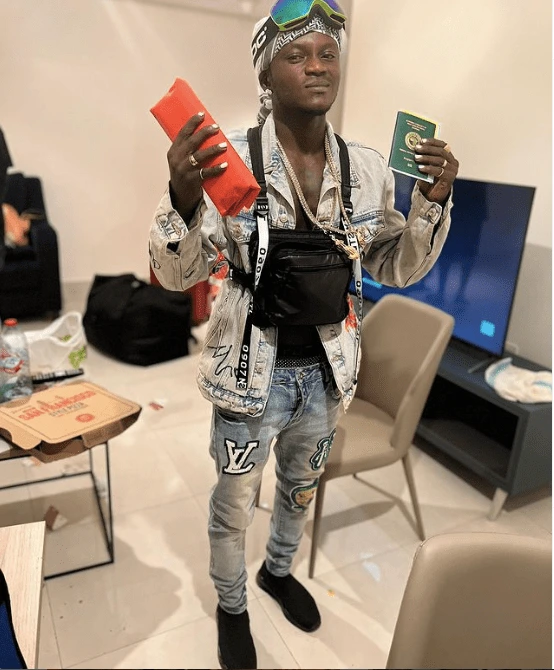 Portable's outburst did not go down well with his producer, Kogbagidi, which provoked the him to walk Portable out from the record label. Feeling remorseful, Portable later apologised to his promoter. At the same time, other celebrities like Olamide, Slimcase and Yomi Fabiyi also joined him, apologising to music promoter Kogbagidi on behalf of the singer.
Not long after, Portable sacks manager, DJ and show promoter, the Zah Zuh coroner had sacked his crew members, including his manager, disc jockey and show promoter. He said they put up an attitude whenever new people want to "mingle" with him.Speaking further, Portable accused his crew members of always holding him back from meeting new people and making progress in his career.He mentioned that he no longer wants to deal with their attitude, and he wants to maintain his space.
These events then followed a 'denial of an entry visa into Canada'. He was removed as one of the guest musicians performing at a show in Canada. A Canadian-based Nigerian MC, Morris, said they dropped the singer because of his attitude.The MC complained that Portable had sacked two managers in less than a year, and he would no longer have him perform in his show.
He went further to say that he has written to immigration to deny his visa application.
Portable also makes headlines for his series of fights with some fans. He allegedly got into a nasty fight with some Benin fans at a show in Edo State.
Hours after the fight, Portable almost got into another fight with a DJ in a club. The singer got infuriated and irritated with how the DJ handled his song.
Shortly after that show, Portable was seen in a live recorded video challenging some police officers who attempted to arrest him.
In January 2022, Kenyan radio presenter, Maureen Imbai, popularly known as Black Cinderella, has called out Nigerian singer, Habeeb Okikiola, popularly known as Portable, for embarrassing her country. The media personality took to her Instagram story on Monday to lambast the Zazzu crooner over a video posted by the latter. In the video, Portable, who was in Kenya, he was jeering at a lady who walked out on him after he informed her that he wasn't available for 'hook up'.Since Portable arrived in Kenya fort he said trip, he had frequently shared videos and pictures of girls he hung out with within the country. Reacting to the latest video, Black Cinderella stated that Portable was embarrassing the country and insulting Kenyan girls. "We all love your music but Portable zukwanuike (calm down). What you are doing in our country is embarrassing Kenya worldwide," she wrote. She continued, "We support your rubbish but not what you are doing to Kenyan girls and posting it online. The video Portable posted last night is not just embarrassing. It is an insult to us Kenyan girls.
"No matter how you feel Kenyans are cheap or quiet, when you overstay your welcome, we will throw you outside our country without mercy. "The people that brought Portable into Kenya, I'm ashamed of you. Your business was to bring an artist to perform and make his money and leave. But daily, we are seeing the misuse of our girls, live abuse of drugs, and so many more disgusting videos online."
In May, 2022, the singer had threatened other artistes nominating alongside him in two categories of the Headies Award— 'Rookie of the Year', and 'Best Street-Hop Artiste'.
He had said, "Those are my awards, anybody else who wins, I will ask for them to be killed. If the organisers give my award to someone else, they will die. Do not give my award to another person or they will die."
However, after the organisers of the award called out the singer and made a police report, Portable quickly apologised for his statement. In a video posted on his social media pages, the singer said, "Headies has nominated a mad man. The streets have taken over. So, you people should give us our award. Please, don't be angry. Please, I want my award."
The Ogun State Police Command, ordered popular hip-hop musician, Habeeb Okikiola, popularly known as Portable, to report himself at the nearest police station.
This was in connection to a video clip circulating on social media, where he was said presumed to have organised some youths to beat up a young man.
In the video seen asking some youths to beat up a man. Portable also accused the man of messaging his wife.
In a statement issued by the command's Spokesperson, Abimbola Oyeyemi, it was said that the incident occurred somewhere within the state about two days ago.
Oyeyemi explained that the victim was inflicted with bodily injury as a result of the beating.
The Police Public Relations Officer described the act as barbaric, unruly, and unbecoming of the singer, who was supposed to be a role model for the youths.
The statement partly read, "The attention of Ogun State Police Command has been drawn to a video clip circulating on social media where a popular hip-hop musician, Habeeb Okikiola a.k.a Portable, the Zazu crooner was seen organising some youths to beat up a young man and inflict bodily injury on him.
"The incident was said to have taken place somewhere within Ogun State about two days ago. Such unruly and violent behaviour is not only barbaric but unbecoming of somebody who is supposed to be a role model for the youths and therefore should not be tolerated.
"In view of this, the Command is using this medium to advise Okikiola Habeeb a.k.a Portable to report himself at the nearest police station in Ogun State, failure of which his arrest will be ordered.
"The flagrant display of impunity by 'Portable' in the viral video is condemnable and if not checked, it will send a wrong signal to the youths who are looking up to him as a role model.
"Jungle justice has no place in our laws and whoever embarked on it must be made to feel the weight of the law, no matter the status of such person."