Liverpool star Virgil van Dijk sends Chelsea boss Thomas Tuchel clear transfer message
Liverpool star Virgil van Dijk has his own ideas over Chelsea's transfer dealings.
Liverpool star Virgil van Dijk has told Thomas Tuchel he cannot be without Antonio Rudiger. The Chelsea defender finds himself out of contract next summer and has yet to sign a new deal.
Chelsea should be trying their best to sign Rudiger to a new contract amid their interest in Sevilla star Jules Kounde.
That was the clear message from Van Dijk, who praised the Blues defender and named him among the best in the world at the back.
Rudiger is one of the most important players at Stamford Bridge at the moment and has become a key member of the squad under Tuchel.
He was a major part of the side that helped win the Champions League last season despite Chelsea being ranked outsiders.
And the former Roma star has played every minute in the Premier League this campaign.
However, Rudiger could be on his way out of the club next summer when his contract expires with some top teams already interested.
Real Madrid and Bayern Munich are among those keen on his services amid reports they are prepared to pay him £400,000-a-week.
But Van Dijk reckons Chelsea must do everything in their power to retain the 28-year-old's services.
When talking about the best defenders out there, the Dutchman said: "There's so many good defenders out there. The old guys, Sergio Ramos, Thiago Silva, Gerard Pique. The game has evolved and defending is different.
"If you look at Laporte and Rudiger. I think he had a fantastic season last year and the way he came back from a knee injury, I have even more respect for him now."
It backs up Rio Ferdinand's earlier view this season when he remarked that Rudiger was the best defender in the Premier League.
The former Manchester United star said on his YouTube channel: "Since Tuchel has come I think he's arguably been the best centre-back.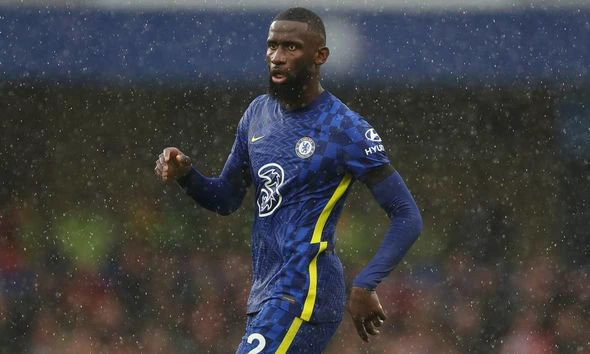 "I think him and [Ruben] Dias would have been close but the effect he has had on his team has been immense.
"Under Frank [Lampard], it was evident he wasn't Frank's cup of tea. He didn't really like him.
"There were rumours they were trying to put him in the market to be sold.
"In Germany, he's always been highly thought of.
"But when the manager doesn't rate you and you can feel that, I don't care who you are your confidence takes a beating and it's hard to perform."
SORRY GUYS, DUE TO THE CONTENT IN THE VIDEO, WE CAN'T POST THE VIDEO HERE, SO KINDLY CLICK HERE TO WATCH IT NOW