Hon. Odeinyefa Ogbolosingha, a youth leader and chieftain of the Peoples Democratic Party (PDP) in Bayelsa state, has been shot dead by gunmen said to be dressed in military camouflage.
Ogbolosingha, 53, was an Administrative Officer in Bayelsa State Civil Service and Secretary, Okordia/Zarama Cluster Development Board, The Nation reported.
He was reportedly killed a few hours after discharging his ailing wife from the hospital.
The incident, which occurred along the Mechanic Village area along Edepie-Imiringi road in Yenagoa, the state capital, led to pandemonium in the area.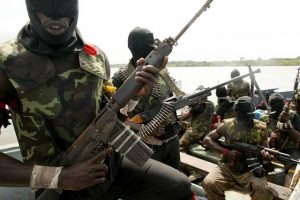 It was learnt attempts by angry youths of the community to create a blockade and slow down the escape of the assailants failed.
Recall In a related development, a gang of armed men in the early hours of Saturday, July 23, killed the deputy leader of Song local government legislative council, Adamawa state, Hon. Ishaya Bakano.
The late Hon. Ishaya from Gudu Mboi Ward is believed to have been the target of assassination.