Give N50,000 To A Secondary School Dropout And He Would Buy Stove And Frypan To Start Business- KOH
Engineer Joe Igbokwe was on his Facebook account to share and react to the statement of Obafemi Hamzat, the deputy governor of Lagos state concerning education and entrepreneurship.
In the shared post, Obafemi Hamzat opined that when N50,000 is given to a secondary school dropout he would use the money to buy a stove, frypan, cooking oil and other things needed to start a noodles cooking business.
Obafemi Hamzat said in three years the young man will have a wife, a plot of land worth N1 million, a tokunbo car, a TV, sofa, bed e.t.c in his one bedroom house.
Obafemi Hamzat opined that when you give N1 million to most university graduates, what 70% of them would use the money to buy is the latest phones, skinny jeans, take their girlfriends out, take selfies and post them on various social media platforms. Hamzat said in less than two years the university graduates will still be paying rent or living with their parents and they will also be buying noodles on credit from the secondary school dropout.
Obafemi Hamzat asked if education breeds waste, arrogance, gullibility and stupidity, he then answered the questions by saying education breeds none of those things, but it makes people look down on possibilities as not befitting their status. He said the uneducated ones are ready to do what the educated refer to as menial job, and that is the reason why unemployment is higher among the educated than the uneducated.
In conclusion, Obafemi Hamzat stated that this is the reality of our society and the prescribed solution is to work as if we have no certificate and remain humble.
Joe Igbokwe reacted to Obafemi Hamzat's statement by saying Obafemi Hamzat blows hot again, this is another common sense lecture and it is not for everyone.
I think the educated ones have now realised that they can also put the knowledge they have gained in the higher institution to use by engaging in menial jobs or handwork. Nowadays it has become easy to find University graduates engaging in fashion designing, shoe making, barbing, welding and other jobs that are perceived to be for the uneducated people. The NYSC also encourage graduates to acquire skills when they go to camp by creating skills acquisition programmes that can help graduates empower themselves after serving the country, instead of waiting for white collar jobs.
The bottom line of this conversation is that our certificate shouldn't stop us from engaging in jobs referred to as dirty or menial.
Read the shared statement below.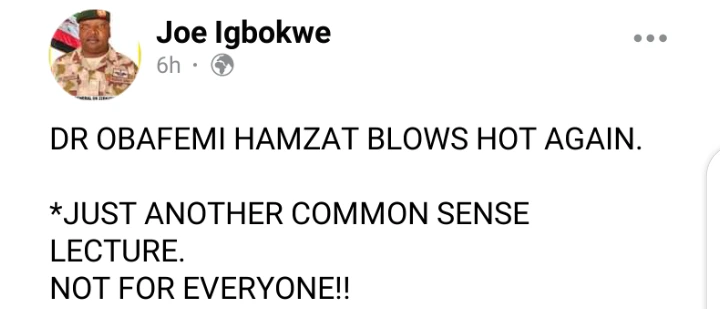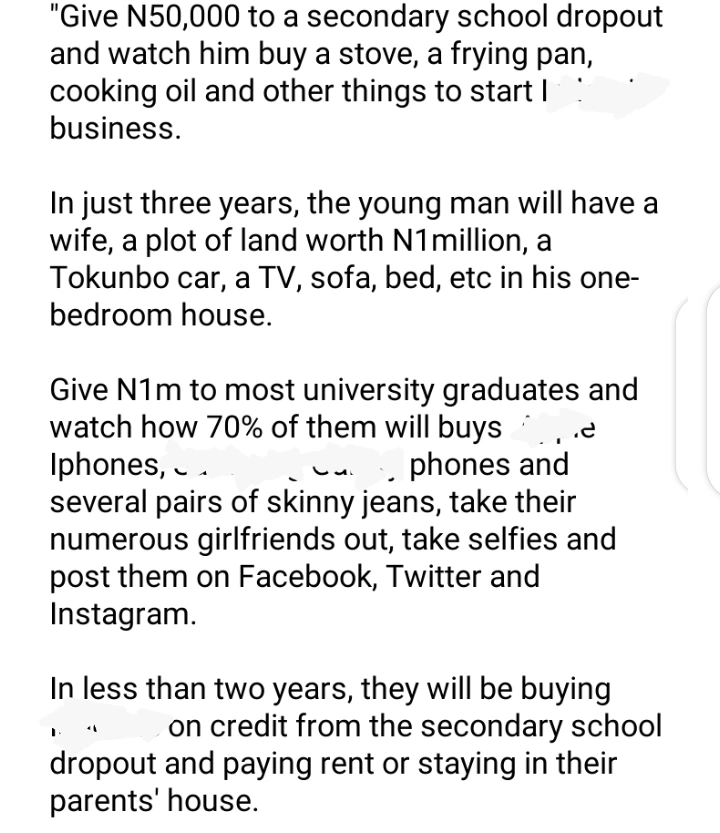 View pictures in App save up to 80% data.