You Can Imagine, Buhari Budgeting 20 Billion Naira For Aso Rock Clinic Which He Hardly Uses – Reno Omokri
The former special assistant to former president Goodluck Jonathan, Reno Omokri has taken out his time to drag President Muhammadu Buhari.
According to a tweet he made this evening on his verified twitter handle, he made it known that President Buhari reportedly budgeted the sum of ₦20 billion for Aso rock clinic which he hardly uses.
Speaking further, he made it known that #HarassBuhariOutofLondon is waiting to give him a warm welcome when he arrives London. He further stated that ₦20 billion Naira is more than the money he is spending on projects for Nigeria's 14 federal hospitals.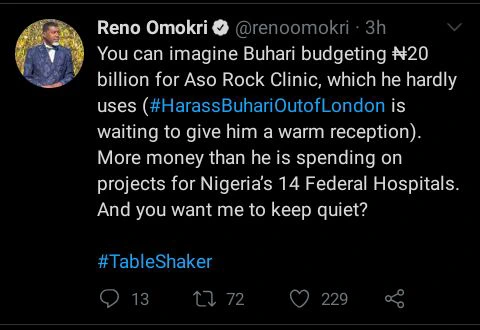 This is really not a good one for our dear country Nigeria. I don't see any reason why such amount of money should be budgeted for Aso Rock clinic, yet the president is still traveling abroad for medical treatment. This is really uncalled for and should be condemned in its entirety. We must learn how to do things properly for us to move forward as a country.