Benue Governor Gifts Toyota Hilux To Driver Who He Once Worked For
The governor of Benue State recently gifted a brand-new Toyota Hilux truck to a driver who was once his boss when he used to be a bus conductor. See photos!
Believe it or not, the current executive governor of Benue State was once a bus conductor working under a driver. Yes, this was confirmed on the 27th of December 2021 when the Benue governor gifted a Toyota Hilux truck to the driver who he once worked for. It was really touching news for many people who could never imagine that the current governor Ortom used to be a bus conductor some time ago.
Benue State governor, Samuel Ortom recently gifted a Toyota Hilux truck to a driver he used to work under, as a bus conductor
Gboko Motor Park came to a standstill on December 27 when the governor of Benue State visited a certain driver identified as Mnenge Mtemave. This driver isn't any "random" person but rather a kindhearted man who gave governor Ortom the chance to work under him many years ago. Yes, governor Ortom once worked as a bus conductor under this man before becoming the great man he is today. In the "spirit" of this year's Yuletide celebrations, Governor Ortom decided to honour his former boss with a car gift.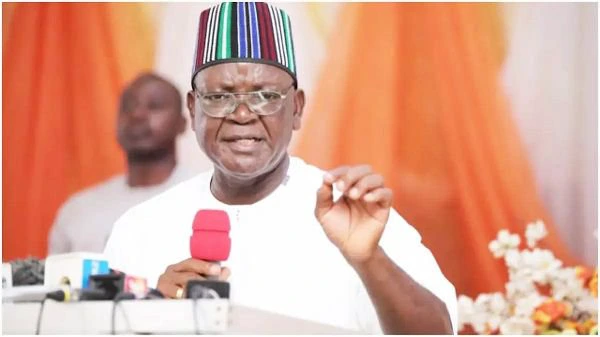 Fresh reports confirm that Governor Ortom was once a bus conductor and he does appreciate his humble beginning
As for the curious minds, Governor Ortom worked as a bus conductor back in the 1970s and 1980s era. He worked as a conductor under Mnenge Mtemave whom he confirmed to be a very generous man. The governor even revealed that Mnenge Mtemave later taught him how to drive a car back in those days. As a matter of fact, Mnenge Mtemave also made Ortom a treasurer and cashier to manage the money they both earned from the job back then.