The Arrest Of Most Wanted Serial Killer 'TINY'
Sanity was restored in Ijegun-Egba area of Satellite Town, following the arrest of a suspected cultist Ibrahim Abdulahi, popularly known as Tiny, who for several years was alleged to have coordinated and participated in robberies and killings that rocked the area. Tiny's arrest by detectives attached to Satellite Town Police Division came weeks after he returned from prison. Ijegun-Egba, a developing area, has been under the control and attack of several cult groups posing as land grabbers. One of such attacks resulted in the death of three residents in the community.
Police affirmed that Tiny, whose name has been on their wanted list, has been on the run since he allegedly murdered three persons. He was arrested and lodged at the State Special Anti-Robbery Squad (SARS) where he was expected to assist the police in apprehending the remaining members of his gang on the run. On the circumstance surrounding his arrest, the state police affirmed that Tiny and four other felons found themselves in police net following a special operation ordered by the Commissioner of Police (CP) Zubairu Muazu.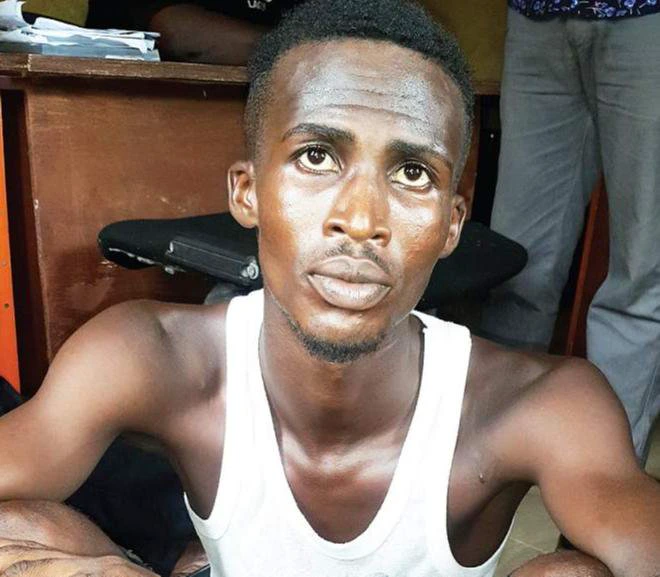 According to report, Tiny's name is connected to every major crime in the area, hence, his inclusion on police's Most Wanted List. As soon as he regained freedom after the last arrest, undercover detectives were deployed to follow up his activities. "The notorious cultist, Ibrahim Abdulahi, whose name sends shivers down the spines of residents of Satellite Town, Lagos was arrested shortly after midnight of March 23, 2019, at his hideout in the Ijegun-Egba area of the town during an operation led by the Divisional Police Officer of Satellite Town Division, CSP Chike Oti, to rid the community of the violent activities of the criminals."
The operation, he said, came on the heels of the order by the Commissioner of Police which he charged Area Commanders, DPOs and Tactical Unit Commanders in the state to clamp down on activities of unlawful societies, thereby authorizing raids of known enclaves of criminals. "Based on this directive and credible intelligence received about Ibrahim Abdulahi, who had been on the run since he was linked to the murder of three residents of the community, he was arrested alongside one of his accomplice, Obinna Kelvin Okey, 23.
"During preliminary interrogation, they confessed to belonging to a cult group called the Aro-Bagger a.k.a. Vikings. Other cultists arrested during the operations include Ismailia Adebayo, 21, Bode Akodo, 21 and Adefesun Abdulwahab, 25, all of them members of Eiye Confraternity."
When reporters visited the community, residents were happy over the arrest of Tiny. They, however, expressed fears that he would soon be released. The majority approached were quick to acknowledge that Tiny has been a terror. "We are very happy that Tiny and his members have been arrested by the police," said Mr Chukwu, a trader at the Ijegun market. He urged security operatives to ensure that Tiny and his members get a long stay in the prison. "I pray they do not release him again. They have arrested him more than five times; anytime they take him to Ikeja, he returned in less than two weeks."
Continuing, he said: "On the day he arrived, he would parade the streets with his members laughing and warning us. And his return is usually marked with serious fight and break-ins into shops. They normally bragged that it is easier to get released whenever police arrest them."