Nollywood celebrities responded to the recent news of actor Ibrahim Yekini, commonly known as Itele, by publicly recognizing his abandoned children.
Itele reportedly sobbed while writing a heartfelt apology to his family, fans, and friends for his inappropriate behavior toward his children from a previous marriage in a recent post, according to the news.
The actor posted a picture of himself along with a message of apologies to his unhappy friends, family, and fans.
He begged for pardon from the public and promised to fully take care of his kids.
He wrote: The past few days has been been Roller coster of Emotions for me , First and Foremost I will like to thank those who reached out concerning this issue , thank you so much, God bless Everyone.
Recently I have been in and out of the hospital but I choose not to post or say anything about it on my page so I don't bother anyone trusting God for good health until few days ago when the issue of my Ex wife and kids made its way to the internet, I felt so bad and typed out of anger which I regret bitterly, Nobody is perfect and I will want to apologize openly to my fans, family and friends who felt disappointed in my write up, I take back those words and I promise going forward I will do BETTER. I Love my kids and and I promise to do the needful henceforth, I am apologizing to the general public to please forgive my earlier outburst and disregard it, To my Fans worldwide , God bless everyone and to those who reached out too, I appreciate it a lot, Thank you.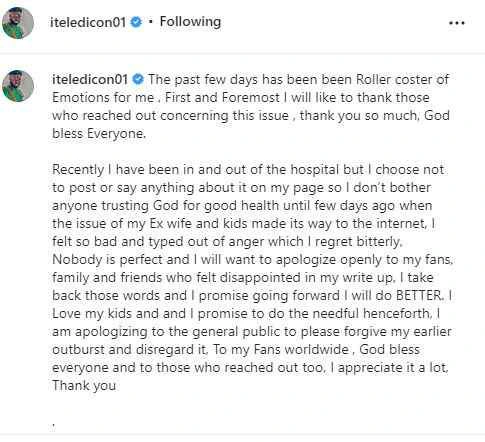 Nollywood stars Mo Bimpe, Sotayogaga, Olayinka Solomon, Bukunmi Oluwasina, Bose Alao, and Adewunmi Fatai reacted with prayers to encourage the actor to do better for his abandoned children.
mo_bimpe: Way to go stay strong icon
bukunmioluwasina: May God's wisdom continue to lead you to and through the right part.
bosealaoo: God bless you and help you take good care of them all. It is well with us all. Hmmm…
glitterstouch_makeovers: Stay strong egbon and almighty Allah wil help us all love and light always
crackydon: You are blessed inshaAllah
shebabyshebaby: Ibukun ni fun Omo odo naa,to Fi Ogbo shey…my love for u ehen. Thank you