2 Reasons Why Angel Flirted With Emmanuel By Asking For A Kiss In The Dressing Room Last Night
After the Saturday party last night, Liquorose was drunk so she went to bed quite early while the housemates were still awake. Shortly after Emmanuel took care of Liquorose and put her to bed, Emmanuel was seen having a discussion with Angel in the dressing room.
The conversation Emmanuel and Angel had last night has given birth to different opinions, speculations and rumors this morning. Some viewers claim that Emmanuel secretly likes Angel while others claim Emmanuel is trying as much as possible to avoid her but Angel is not making it easy.
The conversation started with Angel asking Emmanuel for a kiss on the lips. Angel asked Emmanuel that: "So, should I? There is something on your lips"? Emmanuel quickly declined, he told her to ignore but Angel insisted that she could not ignore it. Emmanuel tried to leave but she dragged her back.
He did not allow her to help him remove whatever was on his lips instead, he cleaned it himself. Again, Angel told him to confirm if what he told her in the Arena was true. Emmanuel told her again that he was under the influence of alcohol, so she should not take it serious.
She said 'you have to say it was legit'. Emmanuel told her that 'no, it was not legit o, it was the alcohol speaking'. Emmanuel stood up to leave her alone but she held his hand and tried to stop White Money from taking him away.
White Money advised Emmanuel to run away. Emmanuel came back and made it clear that Angel is his junior sister but Angel refused to believe him. She said she admits she is the greenest snake, 'Anaconda' in the open grass but they should be scared of the person hiding his snakish nature.
Emmanuel went upstairs to play his snookers alone but Angel went after him again. There are two reasons why Angel kept flirting with Emmanuel last night. From my observation, here are the two major reasons below:
1. Angel wants to prove a point that Emmanuel is a flirt and not genuinely in love with Liquorose as he claimed. During a conversation with Jay Paul and Saskay, Angel said Emmanuel doesn't love Liquorose. She said he constantly flirts with her at the party arena.
Angel wants to prove that she is right. She wants to see if Emmanuel would kiss her since Liquorose was drunk and fast asleep and no one was there at that moment. She is convinced that Emmanuel is a flirt and she wants to prove it.
Moment angel asked for a kiss from Emmanuel last night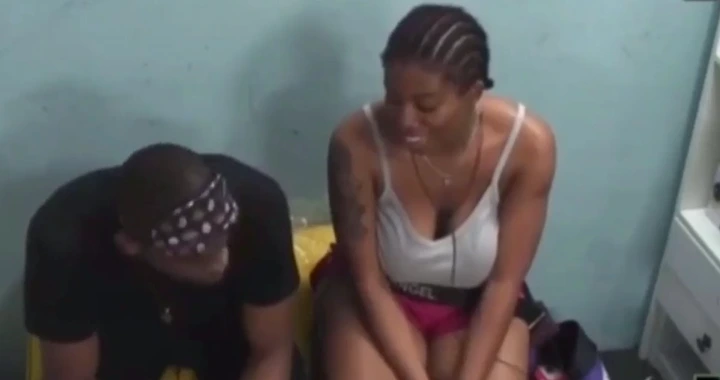 2. Angel wants to find out if what Emmanuel told her in the Arena was genuine: Apparently, Emmanuel said something to her in the Arena but it wasn't shown on camera. The viewers do not know what it is but Angel kept pestering him to confirm if he meant what he said.
In regards to that, Emmanuel said he spoke to her under the influence of alcohol, thus, she should not take it serious. He told her that if she does, she is on her own.
WATCH VIDEO
SORRY GUYS, DUE TO THE CONTENT IN THE VIDEO, WE CAN'T POST THE VIDEO HERE, SO KINDLY CLICK HERE TO WATCH IT NOW